New Topic
>
Reply
<
Esato Forum Index
>
Information
>
Esato News Articles
>
Samsung Galaxy S4 announced
Bookmark topic
Put all the Samsung phones next each other and people will say,which one is which
--
Posted: 2013-03-15 01:56:00
Edit
:
Quote
So after reading the specs of the highly anticipating Galaxy s4 i was like
"THAT'S ALL?"
But what else can i say other than that is the result of having to rely on other companies for innovation. I can believe Samsung ran out of ideas. What an embarrassment.
--
Posted: 2013-03-15 02:07:03
Edit
:
Quote
Sean, I was a bit thrown off when the GS3, Note2 and GS4 were put next to each other for a second, but I noticed the S4 is a bit more narrow.
I'm so glad they have made it lighter
its going to be great to have a 5inch device that is so lite, thin and narrower than most 5inch phones, THAT is how Samsung is going to win over customers, this will probably be the most palm friendly phone with a screen at over 4.5inchs.
Galaxy S4 will hit 327 carriers in 155 countries, rollout starts in April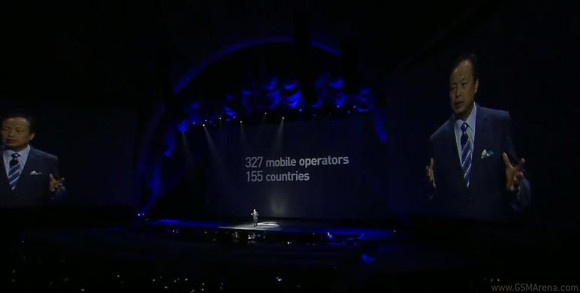 Few companies can do it like Samsung, which definitely possesses the capacity. The latest Samsung flagship will launch at the end of April and go on to hit 327 carriers in 155 countries.
Now Samsung is just showing off!
Some OEMs haven't even got half that many countries at release, Samsung have their distribution game on lock!
http://www.gsmarena.com/the_g[....]155_end_of_april-news-5704.php
[ This Message was edited by: Tsepz_GP on 2013-03-15 01:19 ]
--
Posted: 2013-03-15 02:07:41
Edit
:
Quote
Yeah unlike Sony who never release their phones to all carriers in places like the US
--
Posted: 2013-03-15 02:09:00
Edit
:
Quote
On 2013-03-15 01:56:00, Sean72 wrote:
Put all the Samsung phones next each other and people will say,which one is which
sony is in the same path the the t, v, j, s, sl, tl, t, z, zl and so on. its getting annoying because they all look alike and sound alike. sony is my company but they need to stop it
--
Posted: 2013-03-15 02:11:01
Edit
:
Quote
On 2013-03-15 01:51:30, Tsepz_GP wrote:
It's a handsome thing
looks less feminine than the S3 whilest keeping the predecessor's great ergonomics.
Great work by Samsung, it manages to bring a huge 5inch display, great capacity 2600mAh battery, bigger camera sensor and so on yet STILL manages to be smaller and lighter than the GS3:
Incredible stuff.
Icing on the cake? As usual with Samsung, it comes with the very latest, Android4.2.2 out-the-box.
GSMArena also seems thoroughly impressed
Seems Samsung have done it again, ....Z and One what?
Handsome? Inspired by a pebble like the s3? Extremely bland and uninspiring imho. Nothing on the XZ or the One, and I dont even like the look of the One that much.
You talk as if a bigger camera sensor, battery and screen weigh kg's
Obviously with new tech, and keeping the plastic body, allows for a lighter weight.
4.2.2 for a phone launching late April is to be expected. Not from Samsung, but all manufacturers. If the XZ doesnt have the update by then, well, you win this round
GSMArena was also impressed with the iPhone 5 and other iterations before it, but, I wasnt. Whats your point?
Moving on, sure this has a couple better hardware components, but, is it really that much more 'powerful' XZ/HTC One. I dont know what people do with their phones but all 3 are very capable handsets and will handle most tasks thrown at them. The software features Samsung are now introducing, well, I wont comment further on them. Doesnt interest me in the least.
[ This Message was edited by: >500 on 2013-03-15 01:13 ]
--
Posted: 2013-03-15 02:11:16
Edit
:
Quote
What is the obsession with the ergonomics? It's as if people think ergonomics is the only reason to get a phone. Besides, I think the Xperia T has better ergonomics than the s3.
And anyone that says that the s4 wins in ergonomics is just crazy. The ZL has that one on lock, sorry. No manufacturer will be able to get close before next year.
Sony phones don't really look alike, it's just that the wallpaper is the same - details finer than that are distinguishably different. With Samsung...What finer details?
Now can a few more people see what I was talking about before the announcement when I was saying Samsung was going downhill?
--
Posted: 2013-03-15 02:16:59
Edit
:
Quote
I thought they might have put in a battery as large as the Note 2 though. It's not that much larger than the HTC One battery. For me i don't get the fascination with skinny thin phones. I would rather allow for bigger battery but obviously not making the phone too fat
--
Posted: 2013-03-15 02:18:00
Edit
:
Quote
Yep, personally hoped for a 3000mAh battery, the GS3 has an extended 3000mAh battery pack by Samsung and it doesn't make it at all much thicker.
Guess the gigantic batteries shall be found in the Note series.
NOW, what I want to know is what DAC is in this beast??? Please be Wolfson again, its what makes the S3 a great phone for audiophiles!
Can't wait to see which of its new SW features us GS3/Note2 users will get in 4.2
the updated Nature UX looks great, glad they got rid of the black notification bar.
WRT the new features eating battery, if they have done as great a job in making them effecient as they did in the ones in GS3 and Note2 then it'll be fine, I tend to forget I have them on on my GS3 until they kick in e.g. when smart rotation or smart stay kick in.
EDIT: How interesting that Samsung have thrown in a IR Blaster whilest one of its competitors did so in one flagship but not the other and also a Cinemagraph type app.
The Exynos version also offers LTE, just like the i9305 GS3, glad we're getting that version instead of the Qualcomm one
[ This Message was edited by: Tsepz_GP on 2013-03-15 01:46 ]
--
Posted: 2013-03-15 02:35:39
Edit
:
Quote
Think HTC is kinda panicking
[ This Message was edited by: laffen on 2013-03-15 09:29 ]
--
Posted: 2013-03-15 03:40:00
Edit
:
Quote
---
New Topic Reply

>