New Topic
>
Reply
<
Esato Forum Index
>
Sony Ericsson / Sony
>
Accessories
>
Sony SmartWatch 2 SW2
Bookmark topic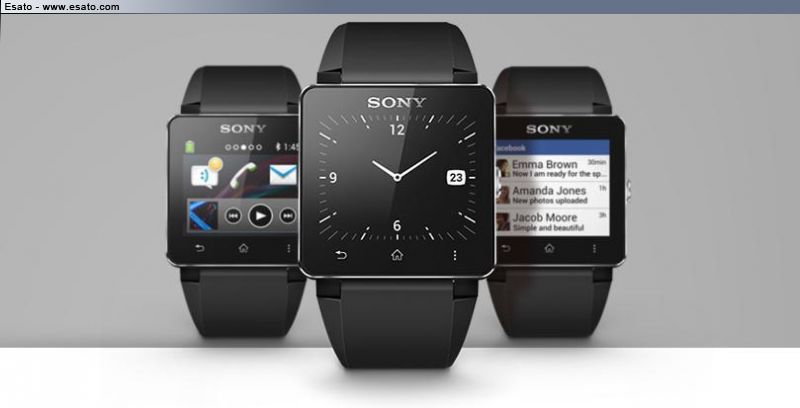 Sony SmartWatch 2
is a second screen for your Android smartphone that, as well as enhancing existing phone functionality, offers unique new benefits. Combining form and function in a sleek design, it serves as a multi-functional watch, notifier, Android app interface and phone remote control, all-in-one.
Compatible
Works as an NFC watch with all smartphones using Android 4.0 (Ice Cream Sandwich) and later
Battery time
Low usage 7 days*
Normal usage, 3-4 days*
*Watch always on
Standards
Bluetooth 3.0
Android release: 4.0 and later
Charging with micro USB
Hardware
SmartWatch
Transflective LCD 1.6"
Materials: Aluminum & high polished plastics
Pixels: 220x176
Languages
English master, Chinese (Trad), Danish, Dutch, English, French, German, Greek, Japanese, Portuguese, Czech, Russian, Polish, Spanish & Swedish
Apps/plugins ready-to-go
App recommender
Facebook
Twitter
SMS
MMS
Missed call notification
Calendar notification
Email
Google+
New events – aggregator
Missed call
RSS
Gmail
Viewfinder (remote camera shutter)
Phonebook
Music player
Find phone
Call log
Weather
Time, date
Hundreds of apps available at Google Play

Screen brightness (sunlight readable)

Longest battery life for a smartwatch* (battery level indicator shows low battery warning)

Water-resistant (IP57)

Easy setup (NFC pairing and connecting)

Standalone watch functionality

Standard micro USB cable for charging

User interface similar to Android UI so it is more intuitive

Bigger screen with higher resolution (1.6 inch, 220 x 176 pixels)

High quality materials (aluminium body and stainless steel wristband)

Extended compatibility (works with most Android phones)

Swappable wristbands – personalise with any standard 24mm strap

Press Release
Product Page
[ This Message was edited by: goldenface on 2013-06-25 19:34 ]
--
Posted: 2013-06-25 20:29:43
Edit
:
Quote
Love the watch, hate the strap.
I might just end up getting one of these. Ive always liked the idea of being able to check messages without taking my phone out of my pocket.
--
Posted: 2013-06-25 22:50:16
Edit
:
Quote
I had the fist smartwatch, it was a lot of fun and there are a lot more apps available now. This version looks ridiculously masculine, it doesn't look good on a girls arm.
--
Posted: 2013-06-25 23:50:12
Edit
:
Quote

On 2013-06-25 22:50:16, etaab wrote:
Love the watch, hate the strap.

There are two straps for the clock, one made of silicon and one made of metal and if none of hem is of your liking, you can use any standard clock strap.
Still think the battery is on the weak side. I can stand charging my phone two or three times a week, but not a clock, even if it is smart (I rather buy a dumb one in this regard).
[ This Message was edited by: Arne Anka on 2013-06-25 23:46 ]
--
Posted: 2013-06-26 00:44:57
Edit
:
Quote

On 2013-06-25 22:50:16, etaab wrote:
Love the watch, hate the strap.

I might just end up getting one of these. Ive always liked the idea of being able to check messages without taking my phone out of my pocket.


Just like the 2nd official
commercial showing a dinner date where the dude checks a message from another girl discreetly … etaab is pimping!!
lol.
Goldenface, I recall you posting about the original smart watch. I'm VERY glad about Sony carrying on this innovative tradition the REAL innovators in this space. Especially with all these cheap ass startups. Apple will debut theirs late in 2013 or early 2014 and have the marketing $$$ to show for it … yet feature wise it'll be "ho-hum" and not even relevant to compare. Sony RULES in this space!!
Arne, haven't seen you post in a dogs age - yet I haven't been cruising many threads of late - good to see you still around! makes us ol'timers (;) lol )feel young. I'd like to see Sony's next smart watch incorporate the Seiko technology for Kinetics … basically turning physical manual movement of the watch into electrical power to charge the internal battery. This gives longer use times between main charging and also self-sufficient charges, along with longer battery life, even with new technologies. Sieko was approved for space several times solely based on this technology - even in space movement still creates a kinetic force of momentum, perpetual and almost indefinite. Recall the ultron (I think it's called). This new implementation in smart watches will define a new paradigm and forever change perception of smart watches.
I think Sony now has the edge and ability to start getting creative in the design of these watches … make them more fashionable and have specific target markets for male and female!!! I'm not sure the demographics for Android users … but in BlackBerry legacy and in current BB10 … women users rule with a 55% advantage - you cannot imagine how many girls I've seen place 1 night stand ads with their PIN numbers. I really think Sony can benefit by a) going back to multi platform support for such applications ~ a particular internal developer at BlackBerry uses this watch and wrote his own app in QML/Cascades for native support for it, and b) Sony can benefit between demographics with style. should they be inclined to follow this route - I think Swatch, Vestal, Beneton, and a few others would come knocking on their door for partnerships!!
Get at it Sony!! Fashionable & Functionable Smart Watches are the future!!
--
Posted: 2013-06-26 01:13:09
Edit
:
Quote
Regarding fashion, what about 'cases' for smart watches? Like a coloured bumper which is flat at the bottom so still comfortable.
Making the strap swappable with a standard one was definitely a very good idea.
--
Posted: 2013-06-26 01:50:04
Edit
:
Quote
Hi everyone!
I like the look of this! Hope the release date is publish soon!
Only one colour?
Ofiaich
--
Posted: 2013-06-26 02:16:35
Edit
:
Quote
I like it but the battery isn't good enough for me. I suppose since I'm not on the go all the time, it's not something i really need. It'd be 100% a novelty item. I'm gonna take a look at the play store and see what sort of apps are available, but from the standard ones, it's nothing I don't mind just taking my phone out to look at.
I think the price tag is about $200 USD? Too much for me without a "killer app" to use with it. Again, I'm not on the go so much, so I think that's why it's not so amazing for me. Though, I wish it had more wow factor to make me get it without question, even as a novelty item.
--
Posted: 2013-06-26 02:59:43
Edit
:
Quote
I have the 1st sony smartwatch and still using it. I'm charging it about every 3 days. Looking forward to upgrade to smartwatch 2. The best part of having this is when you look at your friend's face especially when you show how you can read facebook message/status, sms, twitter etc. Its very useful while driving since you just need to turn your hand while still holding the steering wheel if you want to read incoming message.
and another benefit is, you will not accidently left your phone since the watch will vibrate if you are a bit far from your phone.
--
Posted: 2013-06-26 03:52:41
Edit
:
Quote
I originally bought my SmartWatch thinking it was a fun novelty. I ended up using it far more than I expected. Makes my phone battery last longer. Although i charged mine every night, since I use the watch faces that are Always On (they just look better)
If this thing can last one week with an Always On watch face... that's a winner in itself.
This is my next upgrade as soon as it hits the market! Love my current SmartWatch, no need to convince me to get this one.
--
Posted: 2013-06-26 13:27:50
Edit
:
Quote
---
New Topic Reply

>