New Topic
>
Reply
<
Esato Forum Index
>
Manufacturer Discussion
>
Blackberry
>
BlackBerry Z30 announced
Bookmark topic
BlackBerry Z30: unleashed
The BlackBerry Z30 was announced a few hours ago during a rather mysterious event in Kuala Lampur, Malaysia. That was sort of expected, given that we've been seeing Z30-related leaks growing both in intensity and plausibility during the last few months, which signaled that the phone that some of you know as the Aristo was approaching. Well, the wait is now officially over and here's what BlackBerry has in store for us.
Hardware
As was the case with most of the latest high-roller smartphones, the leaks and rumors were pretty spot on. This includes the 5-inch 720p (295 ppi) AMOLED display, the largest of any BB phone, and also the now slightly aged quad-core Snapdragon S4 Pro found in devices like the Nexus 4, though this time around the four CPUs are ticking at 1.7GHz instead of 1.5Ghz. In terms of memory, you'll find 2GB RAM, with just 16GB of internal storage, though you can expand that via a microSD card. BlackBerry claims that the battery on the Z30, at 2880mAh, coupled with software optimizations, offers 50% more battery life than its current competitors, though manufactures have a pretty shady track record when it comes to this particular bit of hardware, and its actual capabilities.
Turning to the camera on the Z30, an increasingly relevant component of the entire package a smartphone offers lately, we're welcomed by a 8MP rear camera with Auto Focus, 5x digital zoom and a an LED flash. The large five element lens with an aperture of f/2.2 mean that the unit will capture a lot of light, resulting in great shots. The snapper, as is to be expected, is capable of 1080p video capture, and comes with what BB chose to call "Time Shift" – a feature that basically allows you to choose and adjust faces from several snaps, so say goodbye to ill-timed shots.
In terms of connectivity and extras, the Z30 is anything but lacking – you get GPS, 4G LTE connectivity and Wi-Fi, of course, but also Bluetooth 4.0 LE (low energy), NFC, and the rather nice perk that is a microHDMI port.
BlackBerry 10.2 OS
Hardware is only one facet of the smartphone experience, with software increasingly becoming the much more important other half. To that end, the Z30 will ship running BlackBerry 10.2, the OS' latest iteration. Among the new features that BB 10.2 brings to the table are the BlackBerry Priority Hub – your one stop place for all your personal communications and notifcations across a plethora of services. The now refined BBM brings system-wide chat notifications, and will let users preview and respond to incoming communication without having to fire the app itself. Another seemingly interesting feature is what BlackBerry is calling 'Natural Sound'. Basically, BB boasts that its trio of speakers, along with some BlackBerry proprietary tech, will allow for more natural-sounding conversations over BBM Video and BBM Voice, by capturing nuances and variations in the talking person's tone.
Release date and availability
Release dates for the BlackBerry Z30 will vary by region, though the company will be making their new flagship phone available in Hong Kong and Malaysia starting on October 5th for roughly $620. As for the rest of the world, the Z30 will be available from select carriers and retailers, beginning with those in the UK and the Middle East (where BB is still popular), and reportedly other undisclosed regions before the holiday season is upon us.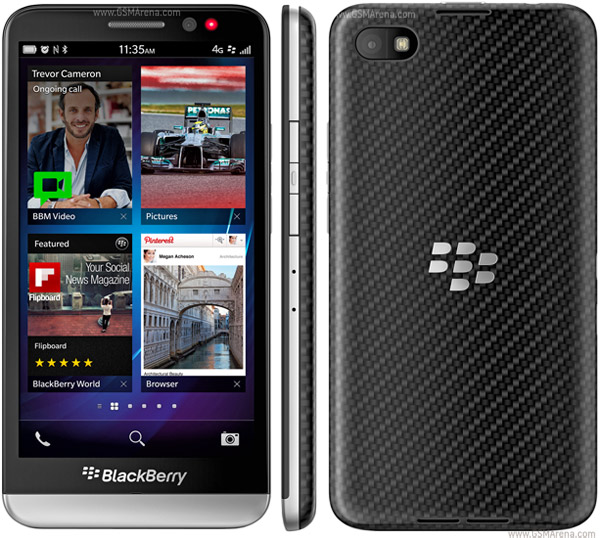 PhoneArena
--
Posted: 2013-09-18 14:03:33
Edit
:
Quote
Beautiful design, I must say. Just like iOS BB10 works smoothly without quad-cores. Unfortunately I don't see this stoping the slide for BlackBerry, would love them to turn things around but I honestly don't see it happening.
This is a perfect time to drop the price of the Q10, that phone is stupidly overpriced IMO.
--
Posted: 2013-09-20 18:12:17
Edit
:
Quote
It's the best BB to date I wouldn't mind one myself just bad news today for BB over 4,000 employees going etc
--
Posted: 2013-09-21 02:57:00
Edit
:
Quote

On 2013-09-21 02:57:00, Bonovox wrote:
It's the best BB to date I wouldn't mind one myself just bad news today for BB over 4,000 employees going etc


WallStreeJournal had the news about 72hrs early and BlackBerry had to release preliminary Q2 news today. It's not.aall doom and gloom the company hasn't quit from the handset market, still has no debt no loans, and still solvent. This news on the heels of the Z30 and BBM4All (bbm.com goes live tomorrow) was a must for a publicly traded company. This actually helps the stock drop and make the company as a whole more attractive to a strategic partner or buyer. Premier and his investment company are already making moves to buy BlackBerry along with the Canadian Teachers Fund (can't recall the official name but it's the teachers retirement investment business that still owns the Maple Leafs (as much as they sick they're very profitable and lucrative business).
WATERLOO, ONTARIO--(Marketwired - September 20, 2013) - BlackBerry Limited (NASDAQ: BBRY)(TSX: BB) -

Company expects GAAP net operating loss of approximately $950 million to $995 million; loss includes a primarily non-cash, pre-tax inventory charge of approximately $930 million to $960 million resulting from the increasingly competitive business environment impacting BlackBerry smartphone volumes, and a pre-tax restructuring charge of $72 million
Company expects to report revenue for the second quarter of approximately $1.6 billion; recognizes sales of approximately 3.7 million smartphones in the second quarter
Company to refocus on enterprise and prosumer market, offering end-to-end solutions, including hardware, software and services
Future smartphone portfolio will transition from 6 devices to 4; focusing on enterprise and prosumer-centric devices, including 2 high-end devices and 2 entry-level devices
Company announces restructuring plans, including reduction of approximately 4,500 employees; targets reduction of its operating expenditures by approximately 50% by end of Q1 Fiscal 2015
Company sees increasing penetration of BlackBerry Enterprise Service 10 (BES 10) with more than 25,000 commercial and test servers installed to date, up from 19,000 in July 2013
Special Committee of the Board continues to evaluate strategic alternatives.
--
Posted: 2013-09-21 04:55:40
Edit
:
Quote
They are dropping the price of the Z10 to sort of make this the flagship. This is still the Z10 that has grown bigger. I am afraid what this phone is going to cost. Not that it will affect me much cause I am getting the Q10.
--
Posted: 2013-09-21 09:09:09
Edit
:
Quote
BlackBerry Z30 announced
Why ? they're making 40% of their workforce out of work and considering selling the business.
Like anyone would buy the phone with those two piece of news hitting the headlines a day before this is announced.
--
Posted: 2013-09-21 21:52:46
Edit
:
Quote

On 2013-09-21 21:52:46, etaab wrote:
BlackBerry Z30 announced

Why ? they're making 40% of their workforce out of work and considering selling the business.

Like anyone would buy the phone with those two piece of news hitting the headlines a day before this is announced.


Two VERY SMALL and mi si formed pieces of news data you're only focusing on:
2.6 Billion in cash - only inventory write down from last quarters 3.1 billion. Billion not million. Half of all of last quarters revenue was from services, which is up 19% estimated!!
Not to mention to major investment firms, both Canadian are in talks to purchase the company to go private. Their not giving up and BBM paused released with unofficial beta release causing issues for Android has 1.2 million downloads and registrations already in less than 8hrs!!
Later I'll post a small researched picture showing just what BlackBerry really has under its belt, just to show you all this FUD has been going on for over two years, all this Too Little To Late and yet all the haters predicting their demise (media short sellers) has yet to come to fact and that they still have a very health business. RIM survived and thrived quite well with less than this work force and with the same or more global market share before becoming a once and former smartphone king or darling that the media and investors alike adored just under 3.5yrs ago.
Compare the spending and marketing failures and help that Nokia, another once former smartphone king and darling, had from Microsoft the entire existence of Windows Mobile Phone, and you can clearly see qtr fir qtr BlackBerry manages their business a lot more efficiently than others. I dare say even the Canadian government may bail them out in the long term.
Looking for a buyer & potential strategic partners or deciding to go private doing the later doesn't preclude failure or end of the road. Nor do you shut down business entirely. Lucent technologies went private and they thrived and still do in today's market, their business hasn't changed.
For once stop spitting verbatim, look at the merits of the product and it's abilities then form your own opinion on that. For the business you'll need to do a LOT more research that even at $20/share it's a steal and gives many business' a huge jump start to an M2M offering solution. Nokia has no end to end solution, BlackBerry does.
--
Posted: 2013-09-22 03:45:46
Edit
:
Quote

On 2013-09-22 03:45:46, Supa_Fly wrote:
Two VERY SMALL and mi si formed pieces of news data you're only focusing on
Not really. Two very key points to focus on entirely.
You see you can start discussing the deep business reasons but none of it is relevant to the average consumer. They don't read into all that, they don't research reasons, whats or wheres of what is going on. I saw the report on BBC news and they asked people in the street did they ever own a Blackberry or intend to buy one. The result was pretty much the same - many have bought them but considered them a has been, not something they'd ever buy again because iPhones are the new thing, or Android phones.
Do you think in phone stores the people who work on commission are going to be telling you whats going on at RIM ? They wont, they know Blackberry has had its day and now they'll just push sales of iPhones and Android.
--
Posted: 2013-09-22 12:16:33
Edit
:
Quote
---
New Topic Reply

>