New Topic
>
Reply
<
Esato Forum Index
>
Manufacturer Discussion
>
Blackberry
>
BlackBerry Z30 Thread And Discussion
Bookmark topic
Just got one yesterday, very nice Blackberry.
Pros:
*Feels very well built (compared to Z10)
*AMOLED screen high quality
*Long battery life
*Wifi direct, Miracast
*HDMI out
*USB OTG
*BB10 is a very nice fast and stable OS
*MicroSD slot
Cons:
*Camera is just 8 Mpx and not too good in night time.
*Battery cannot be replaced
*App selection (this can be fixed by installing any android APK directly in the machine or installing the Amazon Appstore and then installing apps that way).
--
Posted: 2014-04-16 09:22:07
Edit
:
Quote
This model was always alot better than Z10
--
Posted: 2014-04-16 13:41:00
Edit
:
Quote
Yes, I am still getting use to the onscreen keyboard, coming from the Q10.
--
Posted: 2014-04-16 15:25:03
Edit
:
Quote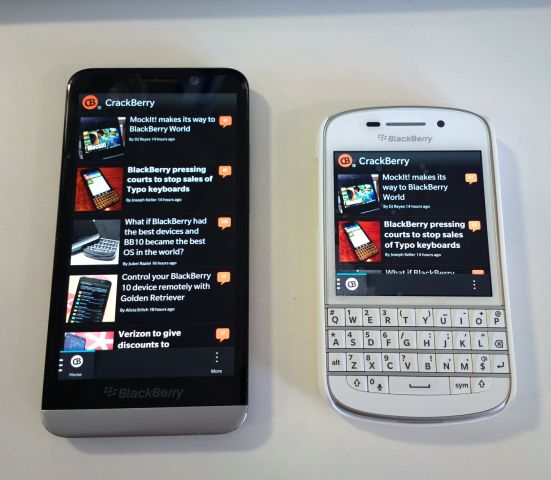 Original
--
Posted: 2014-04-16 15:34:07
Edit
:
Quote
How big is the battery??
--
Posted: 2014-04-16 16:06:32
Edit
:
Quote
2880Mah
--
Posted: 2014-04-17 08:54:11
Edit
:
Quote
I remember walking into the shop a while back and the sales person suggested that I take the S4 when I was looking at both the Z30 and Q10. I smiled at him and showed him my then phone- a Samsung S4.
I told him I hated the phone and Android was a mess that I couldn't take it anymore. At one point I considered taking the Z but my addiction to the QWERTY keypad wouldn't let me. At the end of it all I am very happy with my Q10.
@fbloise
How do the batteries compared considering the small screen of the Q and the larger Z screen with its bigger battery?
--
Posted: 2014-04-19 16:43:01
Edit
:
Quote
On 2014-04-17 08:54:11, fbloise wrote:
2880Mah
@Dups, Fbloise forgot to add most heavy, and I mean HEAVY users (using EVERYTHING) get over 24hrs+ use on ONE-FULL-CHARGE!
Another thing to mention is "USB OTG" also charges! Many are reporting charging Androids/iPhones doing the same thing.
Going to be upgrading to this in a few weeks - work is providing the line and the Z30 as a free HUP for new provider transitioning.
Very excited and will be looking to upgrade my 64GB MicroSD card.
--
Posted: 2014-04-20 18:35:16
Edit
:
Quote
@Supa_Fly
You probably have had all of the BB10 phones, bar the Q5, and now you are going to get the Z30. I find that crazy, man
I would like your impression of that phone.
Anyway, I don't see myself coming over here anymore. The day Ericsson and Sony Ericsson died was the day I lost interest in esato. Sony has some really nice phones but Android is not my thing


I'LL BE SEEING YOU OVER AT CRACKBERRY. By the way, I am mod9 over there.
[ This Message was edited by: Dups! on 2014-04-21 06:46 ]
--
Posted: 2014-04-21 07:44:55
Edit
:
Quote
i'm FBLOISE there
I'm very active in that forum (thanks to the CB10 app). Guys, i don't know what might be the cause but my Z30 battery doesnt last more than 14-16 hours. I think is some rogue android app sucking power in the background. Now, mind i have the same setup in the Q10 and get a way better battery life, both in 4G, brightness 50%, using a full black wallpaper (to aid the AMOLED consumption)
Not sure. any guesses?
--
Posted: 2014-04-21 22:36:48
Edit
:
Quote
---
New Topic Reply

>