Manufacturer Discussion : Motorola : The New Moto Z Family with Moto Mods: Transform Your Smartphone in a Snap

New Topic
>
Reply
<
Esato Forum Index
>
Manufacturer Discussion
>
Motorola
>
The New Moto Z Family with Moto Mods: Transform Your Smartphone in a Snap
Bookmark topic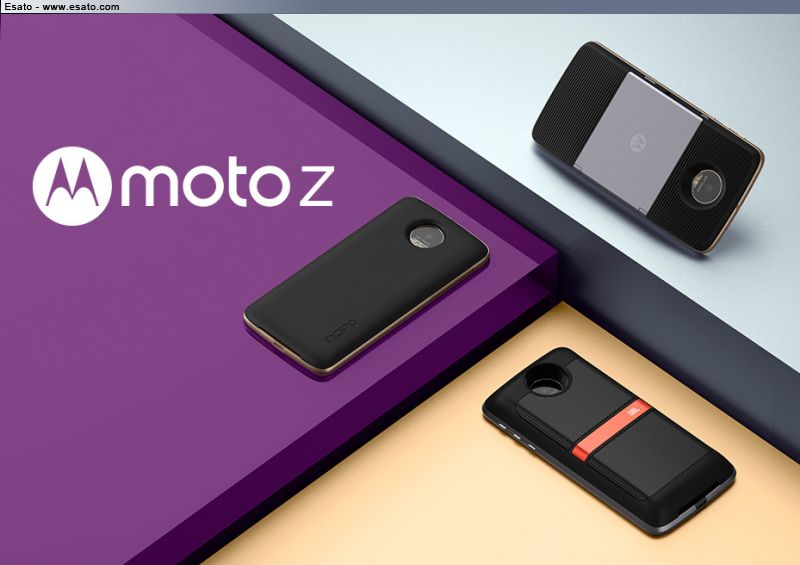 Moto Z: The world's thinnest premium smartphone
Made from military aircraft-grade aluminum and stainless steel, the stunning new Moto Z is durable-yet-razor thin - just 5.2mm - and ultra-light with a 5.5" Quad HD AMOLED display. It's also incredibly powerful packing a Qualcomm® SnapdragonTM 820 processor, 4GB of RAM and 32 GB or 64 GB of storage inside. You can get more space for pictures, videos and apps by adding a microSD card up to 2 TB.
We know the perfect moment doesn't always mean perfect conditions. That's why Moto Z has a high-resolution 13MP camera with optical image stabilization and laser autofocus, which help you take beautiful, true-to-life pictures in any light. The front-facing 5MP camera includes a wide-angle lens, which is great for fitting friends in the picture. And, with an extra flash on the front, everybody in the groupie looks their best—even in low light.
A water-repellant coating means rain, splashes or spills won't get in your way. Tired of fumbling your phone to switch on and sign in? With our fingerprint reader, a touch is all you need to instantly wake up your phone. And with up to 30 hours of battery you can go all day and well into the night without needing to stop and recharge. You'll get up to 8 hours of power in just 15 minutes with TurboPower™ when you finally need a boost.
Moto Z Force: Ultimate performance and sophisticated design
Shatter all expectations — again — with the sleek, all-metal design of Moto Z Force featuring the second generation of Moto ShatterShield™ technology, guaranteeing the display won't crack or shatter in case of a drop.
Packed with the same great features as Moto Z, it ups the game with up to 40 hours of battery life2 and our fastest TurboPower™ charging ever. Get up to 15 hours of battery life in just a 15-minute charge3. Capture crystal-clear photos in any light or setting with an industry-leading 21MP camera, featuring optical image-stabilization, phase detection autofocus (PDAF) and laser autofocus.
It's unrivaled strength, speed, performance and protection all in one.
Bring your ideas to life
Have a great idea for a Moto Mod? Not only are we working on more Moto Mods to add to the ecosystem, we're also providing open architecture and the tools you need to bring your own idea to life. Through the new Moto Mods Developer Program, small developers to established enterprises will have the unprecedented opportunity to help build a complete ecosystem that maximizes innovation and redefines the future of mobile.
Need a little help with your Moto Mods idea? We've got you covered: The Lenovo Capital and Incubator Group (LCIG) will be setting aside seed equity funding to spur innovation on the Moto Mods platform. In addition, the LCIG has set aside $1,000,000 in equity funding for the individual or company that creates the best Moto Mods prototype by March 31, 2017.
For more info about the Moto Mods Development Kit and the certification process, visit developer.motorola.com.
How to get the Moto Z Family and Moto Mods
U.S.
Moto Z DROID™ Edition and Moto Z Force DROID™ Edition5 will be available in the U.S. this summer through our exclusive launch partner Verizon at Verizon stores, retailers such as Best Buy and on moto.com. Moto Mods announced today will be available at the same time.
Moto Z also will be available unlocked on moto.com and at various retailers this fall.
Global
Moto Z will be available worldwide beginning in September along with Moto Mods. Check your local websites for the latest information.
[ This Message was edited by: tranced on 2016-06-10 16:41 ]
--
Posted: 2016-06-10 17:36:38
Edit
:
Quote
Please , make thread for Lenovo Moto Z Droid / Force. The Big flagship is
Moto Z Force
with 21mp camera with OIS , Laser AF , PDAF , and force build body.
http://www.phonearena.com/new[....]ndestructible-flagship_id82001
All differences between Moto Z Droid / Force
http://www.phonearena.com/new[....]ee-all-the-differences_id82007
Full specs
Moto Z Force
http://www.gsmarena.com/motorola_moto_z_force-8093.php
Curious teaser about 10x zoom camera
http://www.gsmarena.com/leake[....]moto_z_flagship-news-18701.php
....and proof -
Pro Camera Amp
modul
http://www.gsmarena.com/moto_[....]d_adventure_mod-news-18754.php
many images of both Moto Z and Moto Mods
http://mobiltelefon.ru/post_1465513329.html
--
Posted: 2016-06-11 08:33:32
Edit
:
Quote
Sure, will do.
--
Posted: 2016-06-11 18:25:25
Edit
:
Quote
---
New Topic Reply

>