General discussions : Concepts of phones, accessories and user interface : Sony Concepts 2014

New Topic
>
Reply
<
Esato Forum Index
>
General discussions
>
Concepts of phones, accessories and user interface
>
Sony Concepts 2014
Bookmark topic
as no one want to start new topic i`ll begin
My new concept named
MoDJuru
. It`s translated as module constructed in japanese.
The idea is to build phone made of main module containing battery, memory, all components and subwoofer with hi-fi sound. The screen/screens, attached by sliding, can form 16/9 or 3/2 form factor depending on model.
The phone call is transmitting by dual bluetooth headset. Modules compact holder fit in any pocket
[ This Message was edited by: zimB on 2014-01-15 22:14 ]
--
Posted: 2014-01-14 00:23:30
Edit
:
Quote
also it`s available in white, red, violet and black colours
--
Posted: 2014-01-15 23:24:00
Edit
:
Quote
The concept of customizable phone with revolutionary body made using 3D printing.
It`s named BiDama translated as marbles
When screen is switched off, it becomes partly transparent.
--
Posted: 2014-01-15 23:59:09
Edit
:
Quote
So it's 2014, I finally got to make another concept. Currently my most detailed concept yet
. The slider concept that I was supposed to make didn't turn out well so I ended up with this one:
Sony Xperia Quartz
Full 3D view available on sketchfab!:
(Desktop browser recommended)
Full 3D view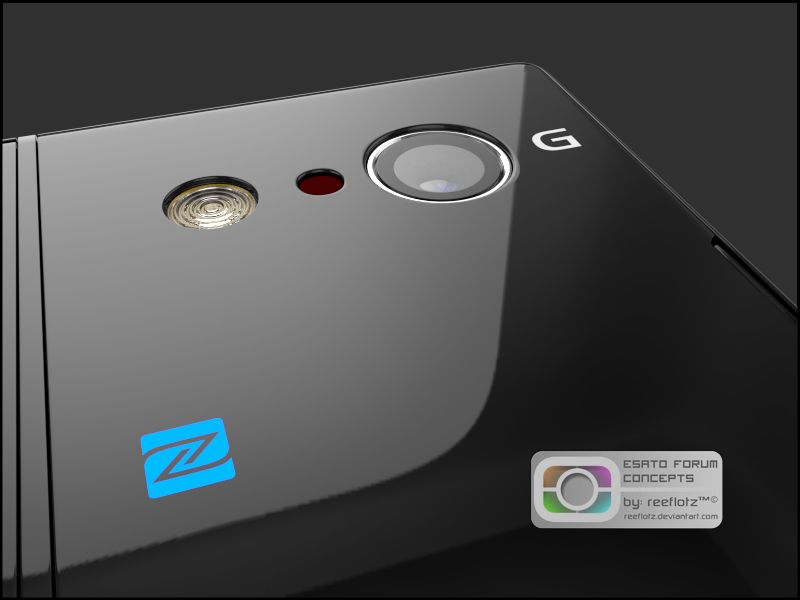 Modeled in Blender 2.68a
Rendered with Blender Cycles
reeflotz@deviantart
reeflotz.blogspot.com
[ This Message was edited by: reeflotz on 2014-01-27 03:06 ]
--
Posted: 2014-01-27 04:01:07
Edit
:
Quote
WOW
That looks amazing Reeflotz
--
Posted: 2014-01-27 10:38:15
Edit
:
Quote
to reeflots:
In my opinion, design of your concept replicates the style of Sony 2013 models. It's rendered well but it's not giving us anything new except
- The render of your vision of Sirius concept modifications.
The design of latest Sony models is identified as iPhone 4 style represented in 2010. It's senseless. To make remarkable
Identifying sonystyle design your concept must include unique features.
--
Posted: 2014-01-27 13:19:16
Edit
:
Quote
@randomuser
Thanks bro, looking forward to what Sony will offer this 2014.
@zimB
The concept is made with as close as to being real, something that Sony could literally produce that can easily become a mainstream product rather than niche.
It theoretically brings something new which is the high output quad LED flash. There's a reason there is an autofocus assist light so as not to blind the person you are taking the picture with just like with regular digicams.
A high output quad LED flash should be a good substitute for a xenon flash and that makes it possible for the phone to maintain it's slimness because there won't be a huge capacitor needed for an LED flash unlike a Xenon flash will.
If you were looking for something unique I already made a couple of concepts back in 2012 which are unique but from an engineering standpoint are quite impractical to produce.
--
Posted: 2014-01-28 05:10:14
Edit
:
Quote
Very nice,I prefer the white one as I like the stripes on the back to be visible.
--
Posted: 2014-01-28 09:53:43
Edit
:
Quote
Oh darn nice reeflotz!
--
Posted: 2014-01-28 18:20:54
Edit
:
Quote
Oto reeflots:
your idea is great, I'd like to see it alive.
My concept Marbles can improve situation in cheap phones market, it can be used as new trend for young people. Instead of phones personalization with bumpers, covers and colourful back sides. Phones with covers are disfigured and weighs much more.
The idea can also raise interest in hi-end segment.
Customizing of:
- shape and colour,
-using of transparent plastic,
-LED shines,
- mixed colours,
- advanced styling.
This begins New Age of Mobile Devices Evolution.
Idea tends to overcome A200 of k750i platform popularity.
Basic skins and cloud software allows customers to choose.:
- size of device by screen 4,3'/4,7'/5,2'/6,4'/10';
- colour;
- shape;
- snapdragon 400/600/800/805... platforms.
[ This Message was edited by: zimB on 2014-01-29 14:18 ]
--
Posted: 2014-01-29 10:09:51
Edit
:
Quote
---
New Topic Reply

>